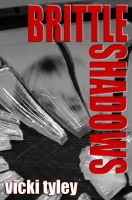 A tragedy surrounded by controversy leads a devastated fiance to her own deadly act, and her shattered sister is left to pick up the pieces. Something just doesn't seem right about the circumstances surrounding her sister's death, and Jemma is determined to discover what that is. Despite veiled threats and mysterious events, Jemma persists in following the clues to their inevitable ending. If she trusts the wrong person along the way, she may not live long enough to put all the pieces together...
As with
Vicki Tyley
's other books, this book grips you from the very first scene, setting up a ride that twists and turns until the very end. New clues lead to potential suspects, and it's anyone's guess as to the who, what, and, most importantly for the reader, the why. As I read, I constantly formulated and dismissed perpetrators and motivations, as each page turn brought me closer to the surprise ending. Along the way, I fingered the right person, only to change my mind a few pages later. This book manages to get the reader to become an active participant in the story, and that always makes for an enjoyable read.
The characters were defined nicely, and I felt I really got to know each of them. I could genuinely relate to Jemma, and I felt liked her character. Through her eyes, I was able to get to know the other characters a little more, including the sister who was tragically lost. The writing style is fluid, for the most part, and very readable. The book has that "fun factor;" interesting and enjoyable, and difficult to put down before you've devoured every bit.
Although I really enjoyed the overall story, the jumps between many of the chapters was somewhat bothersome. I also noted this when I
reviewed
one of her previous releases, "Sleight Malice." Some chapters would end in a bit of a cliff-hanger, but the next chapter started hours after the cliff-hanger had been resolved. When this happens, the readers miss out on experiencing the anxiety and intensity along with the main characters, and it takes us away from that sense of being present. I'm present right up to the cliff-hanger, then I feel detached as I struggle to figure out what's happened. It's akin to having a brief blackout and then trying to recreate what you must have missed. An effective technique when used sparingly, but somewhat disconcerting when used with relative frequency.
Overall, a recommended read. A Vicki Tyley book is always a good bet, and I look forward to each new release!
4 /5 stars
Available on
Smashwords
,
Amazon
and
Barnes & Noble