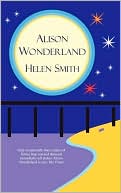 My name's Alison Temple and I used to have this line when people asked me if I'm married. I'd say, 'I'm waiting for Mr Wonderland and when I find him I'll get married. Until then I'm staying single.' The kind of people who need to know whether or not you're married don't see the humor in a joke like that.
I was married once, for a while. I thought my husband was cheating on me. Sometimes he was late home and I'd stand at the bedroom window and watch the street. I'd lean against the window frame and press my forehead against the window in despair and I'd wonder, who do you love more than me? In darkness, in silence, I'd wait until I saw him turn the corner on his way home. Then I'd go and lie in bed - waxwork, expressionless features; heavy, bloodless limbs. It was like one of those hospital nightmares where you have enough anaesthetic to stop you moving or screaming, but not enough to stop you feeling pain. I would just lie there, closing my eyes to stop the giddy feeling that I supposed was anger but was really relief that he was home at all. I was never sure which of us I hated more. Nothing tied me to him - not money, children, or even much of a shared history. Just a sunny day and a white dress. I stayed because I didn't want to leave, but I hated him for not loving me more than anyone else. I stood at the window and I wondered, who do you love more than me? I never asked the question out loud.
Helen Smith
has a unique and clever writing style that makes her characters jump from the pages right into your mind. I'm thrilled to be able to offer one lucky winner a digital copy of "Alison Wonderland." I recently reviewed this book, and it comes recommended by me- what more could you ask? (
Read my review here
.)
As always, no need to send money or homemade chocolate chip cookies (my favorite) or twitter about this (although I'd love it if you did!); I just don't have the patience to do the little +1 thing and double check that everyone's done as promised. Just leave a comment on this post with your email address and format preference (available as: kindle gift, epub, prc or lrf), and cross your fingers and toes that you are the lucky winner!
Good luck!
GIVEAWAY ENDS MARCH 17th, 2011!