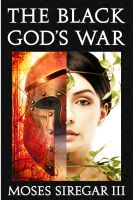 A day of wondrous glory, a day of devastating despair. A long-awaited, holy child is born and minutes later his mother dies. Lucia, his 10-year-old sister, is the only one who can see Lord Danato, the god who takes their mother's life. Nothing in Lucia's own life will never be the same again. Haunted by regular visitations from Lord Danato, and living in the shadow of her holy brother, Lucia must find her place in the world. 19 years later, Lucia's father, King Vieri is leading the Rezzia people in war against the Pawelon people. Caio and Lucia have very important roles to play in the future of the Rezzia people, and they wonder if the cause is worth the death toll that will certainly follow.
A novella by
Moses Siregar III
, the story opens with a scene that pulls you in at once. I was immediately sympathetic to Lucia and very curious about Lord Danato. We are given just enough context to pique our interest and help us understand the people of this time, but we are still left wanting more. This novella consists of 15 of the early chapters of a planned 85 chapter novel (to be released in May 2011), and it's an intriguing taste of what is to come. The characterization in this story is fitting to the length, but I was curious to know more about the main characters. Some characters we get to know a bit better while we are only given a taste of others. The full book promises a more in-depth exploration of some of the characters, particularly the Pawelon people (to whom we are only given a brief introduction). Gaining more perspective on where the Pawelons stand will really help to round out the story and draw us further in.
Well-paced and fluid, the writing style is engaging and descriptive. I really got a feel for the time period and the surroundings. There is more to the story than it seems; I noted religious undertones that brought to mind stories of a biblical nature. I hope the actual novel capitalizes on this as one of its themes without being preachy or blatant. I'm excited to know more about the journey of the Pawelons, as well as hopefully get more backstory on Lucia and what it was like for her and Caio to grow up a part of this legend.
I felt the ending wasn't really satisfying by itself; it left me feeling let down. As a stand-alone novel, I wanted more. As a "teaser" to a full-length novel, it works to prepare you for the rest of the story. Knowing that there will be a book that will take this same story and push it further, while giving me more backstory on the Pawelon people, I'm excited to read more!
4 /5 stars
FREE at
Smashwords
Also available at
Amazon
update: I chose to put this review up at Cym Lowell's "Book Review Party!" Check it out :)