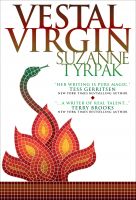 Taken from her home when still a child, Elissa is a revered Vestal Virgin. Somewhat sequestered from the rest of Roman society, educated and powerful in ways that are different from other women of the time, Elissa struggles between doing what is expected of her and dealing with her strong emotions of longing towards one man and hatred towards another. When her brother and sister become part of the drama that surrounds Elissa, she must fight with every bit of her being in order to survive the perilous future laid out before her.
With a fluid writing style,
Suzanne Tyrpak
has created a gripping tale that immerses you in another time and culture. From the very beginning, I was pulled into the storyline. The plot is well-paced, with excellent timing on the introduction of characters and situations. Initially, more time is spent getting to know the various characters, and the pace picks up in sync with the increasing tension. Throughout the story, we follow the characters as their lives become inextricably intertwined. Each character plays a very important part in the overall story, and they are very well-developed and interesting in their own right. Although the storyline focuses upon Elissa as she struggles to put her world right, the supporting characters are no minor parts. On the contrary, they are just as engaging and complex as Elissa herself.
The ending was artfully written, providing both closure and peace. My only real quibble is that I felt the story of Flavia was unfinished. As the story of Elissa was more complete and offered more closure, the ending for Flavia seemed incomplete by comparison and I felt as though there was a bothersome, dangling thread. Although not the main character, Flavia played such an important role that the incompleteness of her tale left me wanting more. Although they were several scenes involving "deviant sex," as the official blurb calls it, they were so skillfully integrated and told suggestively rather than with explicit detail, and they added to the overall story. This tale was truly about Elissa's journey to save herself and her family and to carve out a bit of happiness along the way, and everything in this story supported that theme.
Altogether, a beautifully written story from a very talented author!
4.5 /5 stars
Available at
Smashwords
,
Amazon
, and
Barnes & Noble
Update: The author has indicated that there is more to come with regards to Flavia's experience. That will be coming in the next installment! I'm looking forward to seeing how it plays out...