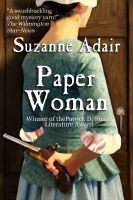 I'm sponsoring Suzanne Adair's book, "The Paper Woman," during the week-long
Blog Tour de Force
. This is going to be loads of fun, with lots of prizes for
YOU
, dear reader, to win! This book's feature day is
Thursday, April 21
. On that day,
I'll
be posting my review of her book, "Paper Woman" (available on
Smashwords
,
Amazon
, and
Barnes & Noble
), and
you'll
have the chance to win
BIG
!
What could you win, you ask? Well, first of all, if you visit the
author's website
on April 21st, you'll get to download a
FREE
copy of "Paper Woman." It's your chance to get the book that won the Patrick D. Smith Literature Award, in addition to collecting quite a number of 5-star reviews! If the free book wasn't enough, you'll also be eligible to win other prizes, such as the author's "Historic Haversack" full of gifts .... and even a Kindle! All you need to do is visit the author's website on Thursday, April 21st, and follow a few instructions.
Check out this post
for more details!