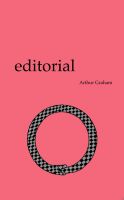 Official Blurb:
Follow the editor and his client into the infinite ring of Ouroboros, the self-devouring, in this episodic novella by Arthur Graham. A story told through concentric circles of narrative, each adding a layer of truth while further smothering all notions of certainty, Editorial will leave readers wondering just how many times the same tale can be swallowed...
*~*~*~*~*~*~*~*~*
This novella by Arthur Graham is available

FREE

from Smashwords until

May 31st

. Just click on this link to go to the Smashwords page, enter the promotional code:

LC43P

, and complete the "purchase" to

download a copy in the format of your choice!
When you've read the book, be sure to leave a review to let the author -and your fellow readers- know what you thought. Enjoy!