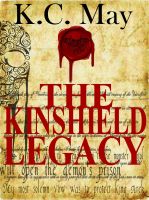 If this book were a movie, my husband would be all over it! In fact, I can picture it as a series he would follow as eagerly as he follows "
Legends of the Seeker
," and for much the same reasons. This genre isn't typically my preferred type of reading material, but the description was intriguing so I wanted to give it a go.
Wow. I was hooked in the first chapter and had trouble putting the book down to sleep last night. Each of the first few chapters introduces new people, people whose lives and stories become inextricably tied together as the story continues. One of the things that sometimes turns me off about the fantasy genre is the whole new language one must learn to understand what is going on. There are new names for objects, actions, types of people... it's like taking a confusing crash course in a foreign language. That's a lot of work when all I want to do is enjoy. Although
K.C. May
introduces new creatures and unfamiliar items with unusual names, the book is very readable, and there was no confusion. I didn't have to work to enjoy; this fantastical world is seamlessly woven into terms to which we can all relate.
The writing style is such that it was very easy to become engaged in the story. When I read some stories, I find myself constantly thinking of how I would have written certain lines or paragraphs differently. That tells me that the writing is not to my standards, and it distracts me from the story the author is trying to tell. When reading this story, however, I found myself enthralled and fully immersed in the adventure. The pacing of the chapters and introduction of new characters was ideal for maintaining interest and moving the story along without drawing anything out unnecessarily. Sometimes bad things happen to great characters, and I mourned the unavoidable losses along the way, even as I celebrated the small victories. I cringed, I delighted, I was completely and utterly engaged.
The ending is very satisfying in and of itself, but it does open the door for a sequel. I, for one, am eager to read more from this talented author.
5/ 5 stars