Have you ever held a job? Maybe two, three, four, seventeen? Ever been fired from a job for speaking your piece? Or have you ever wished you could say whatever came to mind, no matter the consequence? If so, you'll love this chance to live vicariously through Brett Laramie as she plows her way through a series of jobs, leaving nothing unsaid, but many things undone. From teaching to waitressing, from manning a phone for a crisis hotline to applying to be a firefighter, she's done it all, seen it all, and said it all. And she takes us along for the ride!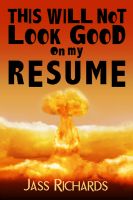 Jass Richards
, a comic writer, has created in Brett a strong-willed woman who alternates between ranting manifestos and (persistently) asking the questions we all want to ask. This book is like a roller coaster ride on a stream of consciousness. The writing style very much reflects a speaking style rather than a written narrative, which fits the characterization of the novel rather well. Each chapter reflects one (short-lived) job experience in Brett's wide variety of careers. Anyone who's ever had a job will easily relate to one or more of the experiences in this story. I certainly found a few that hit home for me. Brett easily says things we all wish we could say, and sometimes says things we wouldn't have ever thought to say. At times, this story had me laughing out loud as I recognized myself (or others), but at other times, the ranting went from lighthearted fun to serious missive, leaving me a little cold. There were some very pointed jabs at certain "institutions" (for lack of a better all-encompassing term), such as religion and misogynists. Hilarious at first, but got a little old and just plain bitter-sounding after a while. For the most part, the story flowed along quickly and somewhat hysterically, but some parts seemed more drawn-out, leaving me ready for a change in scenery. Luckily, I never had to wait long for a new chapter, and I was soon delving into a totally different experience.
Altogether, a funny, quirky read, good for anyone who is up for a quick escape into someone else's hilarious misery.
3 /5 stars
Available at
Smashwords
,
Amazon
, and
Barnes & Noble