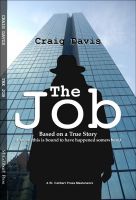 Joe B. has a great job he loves, a loving family, a wonderful house, and is an all-around lucky, lucky guy. Unfortunately, his good deeds have not gone unnoticed by a certain, spiteful employee with enough power to finagle a demotion for him. Suddenly, the former Vice President at Universal Whirligig finds himself working in the mailroom, and his whole words is thrown upside-down. Struggling to find answers to this unexpected life change, he schemes to get a meeting with the Big Boss in the hopes that this (obvious mistake) will be resolved. His situation gets worse and worse until he finally gets the meeting he's looking for, but will he get the answers he's expecting?
Humorous and fun to read, this book is, to me, a parable with religious undertones. As I was reading, I found myself reflecting on various Biblical stories and noting the similarities. After reading the story, I went online to read the official blurb and noted it was described as "a modern parable of ancient troubles and truths." I didn't realize that going in, but I definitely could see that as I read it. Although I frequently was reminded of stories from the Bible, this book really struck me as a parable of the story of Jesus- a bit tongue in cheek and with an added sense of humor, but many similarities in the suffering and the questioning of his future.
I think the brilliance of this relatively short book is in its simplistic writing style and humorous outlook. I really liked Joe B. He wasn't particularly well-developed as a character, none of the characters really were, but you knew just enough to picture him and to understand his motivations and actions. The other characters were less-developed, but they were really secondary. Big Boss had a mythical quality to him (mysterious and omniscient), and Joe's attempts to get an audience with him ranged from inspired to downright ridiculous. In some places in the story, it seemed that there was an attempt to put a little too many meaningful details in, and I got a little sidetracked in those places. Simplicity in some of the details would have gone well with the writing style. The book lacked depth in the writing, but a reader could certainly read more into various aspects of the tale.
This was a fun, lighthearted look at the workplace and the politics at play. It can also be read as a serious parody of belief and suffering, set in a modern workplace. A fun read!
3 /5 stars
Available at
Smashwords
,
Amazon
, and
Barnes & Noble