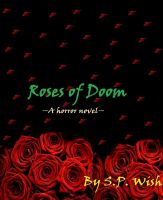 When horror strikes, black roses are left behind...
Mizu and Kaji, twins who couldn't be more different, take a school trip to Greenfire Forest, home of the mysterious and evil spirit of Won. With their closest friends along for the trip, the twins discover some strange happenings as the beginning of something very evil and scary is unleashed.
This is the debut novel of
S. P. Wish
(a novel-writing duo), and, according to the listing on Smashwords, it's targeted for the young adult or teen market. It's a short story, and I'm assuming it's meant to be along the lines of
R. L. Stine's work
, or another author who writes horror for children. As I started to read this, my immediate thought was that the author(s) were either not native English speakers, or were quite young. The writing is very reminiscent of the writing of a upper primary student, or perhaps a middle school student. As a former 5th grade teacher, I wanted to grade it instead of read it. The dialogue is stilted, and there are jumps in the action that seem more like someone didn't feel like describing the next part or just got tired of that setting. It's missing the fluidity that comes with a more mature writing style. Although the characters are meant to be 6th graders, their speech patterns and word choices are inconsistent. Short, childish phrases are intermixed with a more formal way of speaking. There is a distinct lack of slang and relaxed speech. The narration indicates that the children are American, but they have Japanese names because some of the mothers were born in Japan. The speaking style of the characters is more in line with perhaps a Japanese child for whom English is a second language. There is an over use of the ellipse, and some issues with a changing point of view as well. It's told in first person, but switches randomly to third person whenever convenient, with no indication to the reader it's switching.
Although the novel is listed as young adult or teen, I would say it's written more in line for a lower to middle primary level, with a few bigger words thrown in. It is also in need of editing, as there are missing commas, sentences that are incomplete, and several words that are clearly meant to be different words, amongst other things.
It's difficult to rate this. If this is a creation by young people, I want to give encouragement. This isn't a bad place to start, but the writing and concept formation still have a long way to go to achieve the polish that stories geared to this age group should have. As an example, Rick Riordan's series about Percy Jackson is geared toward a young market, yet the writing is rich and fluid and the storylines flow well.
As this was submitted as a request for review and this book is being marketed, I will rate it using the same scale as I rate other books. If it is truly geared for the young adult/teen audience, it is a 1 star. If it is, instead, more geared towards second-third graders, it would earn closer to a 2. In any case, I hope the authors continue to work on adding voice into the story and creating realistic dialogue that helps to move the story along, as well as developing storylines that are more fluid in nature.
~1.5 /5 stars
Available FREE at
Smashwords
!