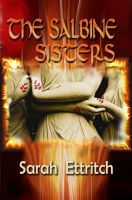 When Maddy heard the call to become a Salbine Sister, she initially struggled with the difficult decision to join this powerful order of mages. While in training, she develops an intimate relationship with her instructor, the stringent and brusque Lillian, who happens to be the most powerful mage in the order. To Maddy's utter frustration and dismay, the gifts of Salbine- the power to draw upon the elements- seem to elude her. After nearly dying while trying to draw forth fire, Maddy desperate seeks answers to why Salbine has denied her. To that end, she sets out on a journey across the land, where a horrible set of events besets Maddy along the way. But the gods answer in different ways, and maybe the answers she seeks are not at all what (and where) she thought they would be.
A novel by
Sarah Ettritch
, "
The Salbine Sisters
" looks at a world where powerful women are revered for their magical ability to draw upon the four elements. What happens when one of the chosen turns out to not have the same abilities? Is there truly a place in the order for those who cannot perform as expected? Part sweet love story, part personal journey, this tale is masterfully woven together with fluid prose and a well-paced storyline. The author entwines key details of the world perfectly into the story, and I was never left confused or unsure about what was going on. Being able to draw my own conclusions from the dialogue and events really allowed me to become completely engaged. And this story was engaging from the very beginning; it never really seemed to lag and I was riveted throughout.
The ending offers the reader closure, tying up the threads nicely while still leaving room to think about the future. The story doesn't progress the way you might expect, which lends its own element of delight and satisfaction. The message I see in the story is applicable to all of us in that we may not always realize that the answers given us are not necessarily the answers we expect. Maddy and Lillian possess both strong and fragile characteristics, but their strengths and weaknesses compliment one other. I loved the interchanges between the two of them, and those scenes allowed us to learn a lot about their characters without ever being told explicitly by the author. Their relationship was sweet, but it was not without its own bumps in the road, and those bumps gave the chance for the characters to show growth. Each woman discovers what she needs to become whole, and for each of them, it's not what she had expected. The supporting characters were perfectly placed in a way that added much to the overall story.
A very enjoyable and heartwarming story that utterly engages from start to finish! Strongly recommended.
5 /5 stars
Available at
Smashwords
,
Amazon
, and
Barnes & Noble