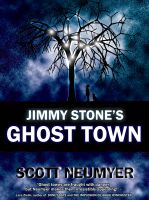 Jimmy Stone has had a hard life. It all really started when his mom came home from the hospital with a puppy instead of the new baby sister he was expecting, and it went downhill from there. Now, he's been relocated to "Boredsylvania" with his largely absent father. With no friends, he finds himself the number one target of the local bully gang. Luckily, he manages to make friends with David, who has successfully survived his year of being the gang's whipping boy, and David is willing to teach Jimmy some survival tips. A spontaneous walk with this new friend in the woods behind Jimmy's house leads to an exciting discovery, and an unexpected adventure. Now Jimmy has to solve a riddle that foretells the end of everything Jimmy holds dear. Can he save the seven realms in time?
I've mentioned before that I don't usually notice cover art, but I must say that I love the cover of this book. I think it's fitting to the story, and quite striking to boot. While I usually skip right by the cover, I find myself mesmerized by this one. That being said, on with the review! This middle grade novel by
Scott Neumyer
begins when Jimmy is in third grade and his family suffers one tragic loss after another. The story is told from Jimmy's point of view, and you can feel his frustration and lack of understanding in the events that took place. I found the writing in the beginning sections very fluid and engaging in telling the story from Jimmy's point of view. During the course of the book, however, the writing flips between present and past tense with no apparent reason (that I could see). Although I found the beginning of the story to flow well, I found it flowed less in the latter half of the story. The writing and dialogue seemed a bit more disjointed and immature later in the book. Additionally, although I found the overall writing style and storyline to be appropriate for the intended age group, there was enough extraneous swearing to definitely make me think twice before sharing this story with my own middle grade sons.
Jimmy's character was developed enough that I got a good feel for him, his life, and his feelings. I found him interesting and, swearing aside, age appropriate. I liked the relationship between Jimmy and his dog, Trex and I felt it added a nice texture to the story. The character of David, on the other hand, confused me. He seemed almost psychic in places, and I expected that to play into the story more. I expected him to have a mysterious connection to the ghost town in the title. Instead, he seemed just as surprised by the ghost town, and his actions and dialogue just plain confused me in places. I'm not sure if it was a lack of development or just inconsistencies, but I think a lot more could have been done with his character that would have added to the storyline.
The story itself was disjointed to me. It was almost like two halves of a story linked together by a walk in the woods. During the first half of the story, I found myself wondering when in the world we were getting to any ghost town. When it happened, I wondered why the extended back story on Jimmy's life. I kept waiting for them to tie together, but it never really happened. Things were hinted upon, but then the ending came somewhat abruptly and prematurely. I didn't see anywhere that officially listed this as the start to a series, but I can't imagine it's anything but. The ending really sets itself up for six more books- one for each of the mentioned realms. I think further books could really help solidify the connection between Jimmy's past and his future, as well as further develop David's character.
In spite of what I felt were shortcomings, I did enjoy the read. I think the author does possess some nice fiction writing skills that could really bloom with tightening of a storyline, and particular attention paid to consistency.
3 /5 stars
Available at
Smashwords
,
Amazon
, and
Barnes & Noble