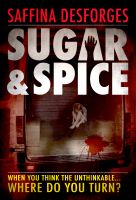 I recently reviewed "Sugar & Spice" by Saffina Desforges. The author has generously offered the first 50 responders a

FREE

copy of this book from Smashwords!!
No contest to win, just a FREE book to read! To get your copy of the book I called "riveting and thought-provoking," just leave a comment on this post with your email OR email me at gracekrispy AT yahoo dot com with your email address. You will receive a return email with a Smashwords coupon code for 100% off the book. The coupon can be used to download a FREE copy in the format of your choice.
(This offer is only good for the first 50 respondents, I will not keep any email addresses and you will NOT be contacted by me after receiving your coupon code. Believe me, I don't have that kind of time!)