Love, Sex and Death! Paper Woman has it ALL!
GET READY TO RUMBLE! It's the Blog Tour de Force battle to the death, and you're invited! Read my review of Suzanne Adair's "Paper Woman" below, then follow the directions below the review to be eligible to win prizes and your own copy of "Paper Woman!"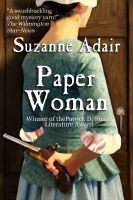 Sophie lives her life for the family printing business, intelligent conversations with her good friend Edward, and time spent with her family. But trouble is brewing in Alton this June of 1780 as the events in the Revolutionary War continue to grow in intensity. On a night that begins with a friendly party, three men will end up dead-- one of them Sophie's father. In an effort to find her father's killer and avenge his death, Sophie is drawn into an adventure that becomes so much more than she dreamed. She'll be up against dangers she could not even fathom, and it will take every bit of her inner strength and cunning to get her through. What will become of the Paper Woman?
A first novel by
Suzanne Adair
, this book won the Patrick D. Smith Literature Award. Fluid and descriptive, with writing that seamlessly weaves plot and historical context, it was a well-deserved win. The writing carries you along in such a way that you can't help but become engrossed in the time and the context of the story. The gritty realities of life in this time are made clear, as are the challenges women faced. This is no romanticized vision of the past, this is truth down to the grueling detail. The story was immediately engaging as we follow Sophie at a party, fending off unwanted advances and trying to keep track of her willful and outspoken father. Taking the reader across Florida and then across the ocean, this is a thrilling ride, full of adventure, duplicity and intrigue. With just enough twists in the story to maintain interest, it's easy to imagine yourself there, amidst the grime and fear, struggling to stay a step ahead of the game.
There are plenty of characters to keep track of, and the development of these characters is top-notch. Although it's sometimes tricky to remember a name here and there (and, for some reason, it threw me off that Sophie's father is referred to as "Will" in the story rather than "her father" or some such moniker to denote his relationship to Sophie), there is enough context given for each character that they really distinguish themselves along the way. Sophie is a kick-ass character. She is a woman in a man's world, but manages to hold her own against many powerful and determined men. She's strong, yet vulnerable; especially with regards to her love life. "Uncle" Jacques is colorful and engaging, and it's easy to imagine him as the fun guy at the party. Edward appears a simple character, but turns out to be more complex than we may have imagined, while Fairfax is so ruthless and clever it's easy to despise him. David is perhaps the least developed character, and it would have been nice to get a little more personality from him, but, really, "least developed" in this crew is still more developed than many stories I've read. He may just seem the least developed to me because the others are so tangible in my mind. Of all the characters, Mathias is my favorite. There's something about his own past and his conflicted feelings about love and happiness that pulls me right in. I rooted for him, but I wanted to smack sense into him at the same time.
Although a very well-written and engaging story, I did find myself lost a time or two along the way. There was so much going on, sometimes I had to backtrack to see what I'd missed on my first read. Some of the plot events almost seemed too much. I think I craved a touch more simplicity in the plot, since the characterization and setting were so rich and complex. Overall, however, a fantastic story that allowed me to fully immerse and enjoy!
4.5 /5 stars
Available at
Smashwords
,
Amazon
, and
Barnes & Noble
I've written my review, now it's YOUR turn: This book is in competition to win in the
Blog Tour de Force
. Be sure to stop by the
author's blog today
for your chance to leave a comment and enter to win some amazing prizes! Seriously- GO NOW! Then come back here and comment on MY blog

(because you loved my review so much and it's part of the instructions and I'm a little nervous now that I feel like I'm in competition, too...)

with the special key words to be eligible for prizes!