Here are the rules--
Anyone can play along! Just do the following:
Grab your current read

Open to a random page

Share two (2) "teaser" sentences from somewhere on that page

BE CAREFUL NOT TO INCLUDE SPOILERS! (make sure that what you share doesn't give too much away! You don't want to ruin the book for others!)
Share the title & author, too, so that other TT participants can add the book to their TBR Lists if they like your teasers!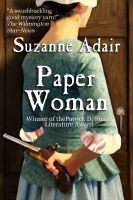 "Their voices dwindled, and the sputter of a torch swallowed the rest of their conversation. She chanced a look at them, but they'd already passed from silhouettes into secrecy." (p. 12)
*~*~*~*~*~*~*~*~*~*~SNIP~*~*~*~*~*~*~*~*~*~
"She whipped out the pistol, cocked it fully, and leveled the barrel at his nose, hoping he couldn't see her heart pounding in her throat. Both Spaniard's eyes bulged in shock." (p.28)
Just for the record, this is the first week I've "cheated" on the Teaser Tuesday by posting two snippets from the same book. I just randomly flicked to both pages and couldn't decide which one to include!
Don't forget to stop by my blog this THURSDAY, April 21st to read my review of "Paper Woman" and then stop by the author's blog for your chance to win prizes and get your own copy of "Paper Woman"- all part of Blog Tour de Force! (Check out this post for some information about the contributors to the Historic Haversock you could win from the author's blog!)