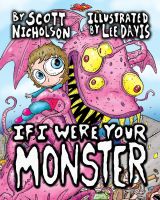 If I were your monster, I'd slither at your feet,
I'd slobber, snort, and click my claws at people on the street
Written for children,
Scott Nicholson
's book has a lovely cadence that makes for a fun read aloud. Just to test it out, I read it aloud to my own three kids. They loved the story. I initially read this on my Sony, but the pictures weren't nearly as fun in black and white. We then read my copy on the computer so we could see the colors. One of my sons decided the pictures would give a little kid nightmares, the other thought they were a little "weird" and didn't look quite right. My daughter loved them. Not sure where I got such analytical sons.... but this does go to show that the pictures may not appeal to all kids. I found the colors and silly and detailed drawings fun.
This book is perfect as a read aloud, but some of the vocabulary is higher level. I love that in a read aloud where you'd likely be reading the story to the child. If the child is old enough, this is a great way to expand vocabulary through conversation. If the child is younger, they'll still get a lot from the catchy rhyme. I think this is also a great way to help dispel nighttime fears in younger children, and may even lead to spontaneous and creative production of additional rhymes. How about "If I were a zombie?" or "If I were a werewolf?" As a parent and educator myself, I love when books provide a jumping off point to expand knowledge and make connections. What better way to nurture a child than to read together? With a engaging book such as this, conversations and fun will surely follow!
5 /5 stars
Available on
Smashwords
,
Amazon
, and
Barnes & Noble